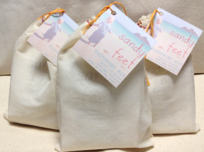 LITTLE SANDY FEET FOOTPRINT KIT
Regular price $18.50 Sale
...because they're only little once.

the Little Sandy Feet Footprint Kit  is a great gift for new parents and a way to create a keepsake that they will always treasure!  Each kit can produce 2-4 prints of baby's foot resembling a footprint in the sand.  The kit includes the mix, 4 strands of jute twine for hanging and displaying each print and a set a detailed instructions with photos... all they need is a cup or two of sand from their favorite beach.
​​​​Little Sandy Feet Footprint Kit:​​

1. Makes 2-4 prints

2. Send a print to Grandma & Grandpa

3. Buy a kit for the mom who has everything!
4. Great gift for twins/multiples, siblings

5. The perfect gift for the ocean loving family!

6. Baby's foot never comes in contact with inks & chemicals!

7. Awesome souvenir of baby's day at the beach

8. Use sand from your favorite beach (sand not included)
9. Best for ages newborn - 4

10.  Made in Kailua, Hawaii
Footprints In The Sand
Bring memories of the beach home with this darling footprint-casting kit.
Simply make a footprint in the dense, moist sand. Then collect beach water in the cup provided, and add the special powder mixture to it. Stir to a smooth, thick consistency, then pour the mixture into the footprint mold. You can even personalize your footprint with the included stylus, and use the cord to make your print ready-to-hang.
Allow 20 minutes for it to harden, then gently scoop the print out. Use the special keepsake pail to tote your creation home!
Kit can make two children's feet (up to size 2) or one adult foot. Parental supervision required. Contents made in the USA; tin made in China.
MADE FROM
tin, art plaster
MEASUREMENTS
6" H x 5" dia.
NOTES
Should be mixed outside in warm conditions for intended results. Sand not included.